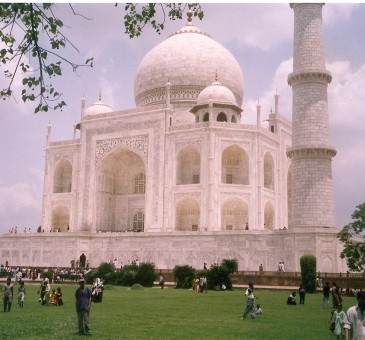 "Lotus Love" Chapter 15- Delhi & Agra: The End of the Paper Trail, Homage to Gandhi-Ji and Honeymoon at The Taj Mahal
Chapter 15- Delhi & Agra: The End of the Paper Trail, Homage to Gandhi-Ji and Honeymoon at the Taj Mahal
It was time to say good-bye to Dheradun.  Jennifer and Tsering stopped by the Tibetan sweater market to express their thanks and good wishes to Dolma one last time before boarding the bus outside the Rang Mahal hotel.  Once back in Delhi they tried to check back into the Tashi Delegs house but were told they were booked.  The manager also mentioned that they did not allow guests to cook on the premises.  They were going to have to find accommodations that allowed the use of kerosene stoves.  As they walked down the main pedestrian street of Majnukatilla with their bags in tow, Tsering inquired about rooms for rent with the people who were lingering in the market.  After several attempts, he was given a good lead by a young Khampa man.  He told Tsering to turn down the next alley on the right where a baby was taking a bath in a pink plastic basin.  At the end of the alley would be a door numbered #3.  They should go up three flights and then ask for Ama-la.
Tsering led Jennifer down the alley and then instructed her to sit and wait with their belongings while he checked things out.  Moments later, Jennifer heard Tsering shout her name from the third story window overhead.  He smiled down at her and gave her a thumbs up to indicate that things were looking good.  Moments later he was up on the roof, once again calling her name as he waved and smiled.  A few minutes later Tsering came back down to the alley.  "It's good, Jenni.  They have room for us.  The family is Khampa, like me.  They let us cook, too.  No problem.  Come and see."
Tsering and Jennifer carried their luggage up the three flights of stairs onto the rooftop where a small cement room with a sheet metal roof awaited them.  Not exactly the honeymoon suite that they enjoyed back in Clementown but it had a nice view of the river and they could do their laundry, wash and cooking easily as there was a washroom on the rooftop as well.  Their rent would be just 100 rupees a day so that would leave them a surplus of 50 rupees per day as a cushion for food and other unknown expenses they may incur.  The newlyweds set up home in their little roof-top shack that had just enough space to accommodate two twin beds that met in an L shape, and one small wooden table.  There were two small windows covered with small square patches of fabric as make-shift curtains.  Jennifer did not mind the rudimentary living conditions, it reminded her of the rustic cabins she lived in at summer camp.  It was the heat that worried her, though.  The heat of Delhi was intense and as they were now in the month of June, the heat was not going to let up any time soon.  Their room was on the rooftop of a three story building and to make matters worse, was covered in sheet metal.  Staying in the room during the sunlight hours was going to be like living in a convection oven.  They would have to pass their time outdoors and only stay in their room in the early morning hours and evening.
Jennifer expressed her concerns to Tsering who then translated for Ama-la, the owner of the property.  After a short discussion in Tibetan, Tsering turned to Jennifer and said, "Don't worry, Jenni.  Ama-la says room downstairs has water cooler.  When this room opens up she let us stay there.  She normally rents 200 rupees a day but she rent us only 150."
"Okay, I guess we can wait it out.  As long as I can use the bucket in the washroom to dump cold water over my head every hour to cool off I guess I can tolerate it," Jennifer laughed.  "Da ta re.  That's it, then," she said as she started to set up the shrine in their new one-room home.  Ama-la took the small deposit of one day's rent and left the couple in peace.  Jennifer continued to unpack while Tsering set up the stove to start a pot of rice.  Jennifer could already feel the beads of sweat accumulate on her forehead and under her shirt.  The paper thin Indian cotton shirt she was wearing began to stick to her skin.  She had to get out of the room.  She went into the washroom and filled up the water bucket and dumped it in one fell swoop over her body, clothing and all.  It was heaven.  She was instantly relieved from the heat and joined Tsering on the rooftop where he had strategically set up kitchen in a spot shaded by the hanging laundry.  While the rice cooked, Jennifer and Tsering washed and prepared the vegetables.  By the time the rice had finished cooking, Jennifer's clothing was already dry.  She took the rice off the fire and started to cook the vegetables.  The heat was already starting to bother her as she could feel the perspiration coat her body once again.  Tsering took over with the cooking as Jennifer went to the washroom a second time and dumped another bucket of water over her head.
"Tsering-la, I don't think I'm going to make it in this heat.  It doesn't bother you?  I'm going to need to drink a ton of water so I don't get sick.  I think I want to buy a sun parasol as well to protect my skin.  I feel like a boiled lobster in this heat!"  She looked like one, too– her fair complexion was glowing beet red from the intense sun and heat.  "It must be hot enough to fry an egg on this roof!"  The couple decided that while they were living on the roof it was best to eat in air-conditioned restaurants for the noon day meal and then cook mornings and evenings at home.  Their cheap rent could afford this luxury that was going to be a necessity to maintain good health in the long term.  Hopefully they would be able to move downstairs soon.
After they had cleaned up from lunch, Jennifer and Tsering locked their room and went down to the market to buy a parasol and bottled water.  Jennifer had a pretty floral or lace one in mind but settled for the only thing she could find– a plain black umbrella.  They then took a taxi down to New Delhi to visit Mr. Wangtso at the Tibetan Office.  With their newly acquired marriage certificate in hand, they approached the counter and asked the clerk to request a meeting with the Director.  Minutes later Mr. Wangtso came out and greeted them.
"So, you have good news, then?  Are congratulations in order?" he asked with a smile.
"Yes, Mr. Wangtso, thank you.  We are now officially married!" Jennifer answered, handing the certificate over to him.
"That is wonderful.  I am glad that the Tibetan Settlement Officer in Dheradun was able to assist you," Mr. Wangtso said looking over the certificate.  "We Tibetans look out for each other."
"Yes, that is true.  We initially tried getting a marriage license through the Indian government here in Delhi.  Because neither of us is Indian-born they told us they could not issue one.  An Indian lawyer said he could do it for 50,000 rupees.  That was completely out of our budget and just outrageous on principle alone.  So we decided to go back to Dheradun and ask with the Tibetan officers there.  Luckily they were very open and supportive to us.  I will never forget the kindness of all the Tibetans along the way so far who have assisted us– including you, sir," offered Jennifer sincerely.
"I am happy to assist you.  I will make a copy of this document and add it to your application.  It will take some time to process, however.  Be advised that Tsering's IC booklet will not be ready for at least 3 months' time."
"Oh, really?  That is quite a long time.  There is no way to expedite it?  My visa runs out in just a few weeks and I will be returning home to America soon.  I was hoping Tsering would be able to come with me."
"I am sorry, Miss, but it just won't be possible.  It is already extraordinary that he will be issued an IC at all.  In any case, I doubt that you would be able to obtain an immigration visa to the United States for Tsering in such a short period of time.  I see that you are a very determined young lady, but not a miracle worker!"
"Yes, that is true!  I suppose you must be right about the challenges of the immigration visa.  I was hoping we were going to get everything finished before my Indian visa expires but I guess it's time to be more realistic.  The US Embassy requires a valid passport at the time of application. Do you think you could perhaps write a letter explaining that Tsering's IC application has been approved and will be issued in 3 months' time?  That way we can at least present that with his application before I leave.  It would make me feel more secure about Tsering's future knowing his visa was in process before I leave India."
"Yes, I can do that for you.  Now, if you excuse me, I must get on with my duties.  Let me go make a copy of your marriage certificate before you leave," Mr. Wangtso stood up and walked to the copy machine behind the counter.  He handed the original certificate back to Jennifer who was waiting on the other side of the counter and said, "You will want to laminate this certificate, Miss.  You don't want it to be damaged."
"Thank you, Mr. Wangtso.  Your advice is always helpful.  We will do that right away."
"Tsering's letter will be ready by the end of the week.  I will leave it with the clerk.  Just return on Friday to pick it up."
"Tuk je che.  Thank you again, sir.  Have a good day."
"Good day.  Good luck with the visa application.  We will see each other in 3 months, then, when Tsering's IC is ready to be picked up."
"See you then."
Tsering and Jennifer left the office and headed over to the US Embassy.  Jennifer had finished filling out Tsering's visa application and had just about all the necessary documents ready to submit.  She wanted to review his file with a Consular to make sure all was set.  Once everything was complete they would be given an interview date.  The sooner Tsering's application was submitted, the sooner they would be granted an interview.  The formal interview was the final step in the application process where a Consular would essentially interrogate them both to determine the validity of their relationship.  It was then that marriages of convenience were weeded out from the authentic ones.  The immigration visa application instructions had advised the presentation of photos, letters and other documentation that could provide proof of relationship between the couple.  Jennifer was glad that she had been carrying a camera with her all these months and had documented their travels together.
They entered the cool quiet of the Embassy and passed through security.  Jennifer took a numbered ticket and they sat on a bench to wait for their number to come up.  It was a slow day at the Embassy and soon enough they were called.  Jennifer took Tsering's application file out of her back pack and slid it under the glass window of the counter.  "This is my husband's visa application.  I was hoping you could kindly review it with me to make sure everything was complete and ready for submission."
"Sure, no problem," the Consular said as he took the papers from the metal tray and started to methodically check them against the list of requirements.  "Let's see, completed application, passport size photos, marriage certificate… where is his physical exam documentation?"
"Oh, yes, we'll be getting that this week.  That's on the to-do list."
"And financials?  Will you be his sponsor?  If so, we will need your most recent Tax Returns with all the required schedules."
The one application requirement that Jennifer had yet to secure was the financial piece.  She was going to have to call her mother and see if she could help out.  "Oh, that's right, I am hoping that my mother will co-sponsor with me.  If she agrees, would she be able to fax the documents here to your office?"
"No, we can not accept faxes on your behalf.  You will have to receive them otherwise and bring them with you when you are ready to submit the application.  Just like you, your mother will have to submit tax returns with all schedules, monthly statements of bank accounts, and any investments she may have to prove she meets the financial requirements for sponsorship."
"Thank you.  I will get these things soon and be back.  Once the application file is complete and submitted, when will we be granted an interview?"
"It's usually about a month's turn-around time."
"Is it possible to request that the interview be expedited?  My Indian visa is soon to expire and I will not be coming back for 6 weeks.  My sister is getting married back home and I am afraid that I will not be here for the scheduled interview date."
"Hold on.  Let me inquire for you."  The Consular left the window and Jennifer turned back to see what Tsering was doing.  He was patiently and peacefully looking around at the other people in the waiting room.  He was fascinated with the comings and goings of the yellow and red haired "Injis" or foreigners.
"Hello, Miss?" the Consular had returned and Jennifer turned her attention back to the window.  "I just relayed your situation to the Director and it seems that we should be able to accommodate your request.  You will need to get these financial documents ASAP and the physical exam, of course.  Here is a list of approved doctors who can administer the exam.  Bring it the completed file back when you are ready," he said as he slid her the list and Tsering's application file back under the window.
"Great.  Thanks for all your help.  I really appreciate it!"  Jennifer said as she gathered the papers and left the window to sit back down with Tsering.
"Good news.  It looks like we'll be able to wrap things up before I go home.  We need to get you to the doctor for a physical exam and I need to call my Mom for help.  Let's soak up the last few moments of AC in here to get us back to Majnukatilla."  Once Jennifer had all the papers back in her backpack and had finished drinking her bottle of water she was ready.  "Tan dro?"
"Let's Go!" Tsering agreed, happy to hear that things were working out.
When they arrived back at Majnukatilla, Jennifer stopped at a shop to make some phone calls.  While she went in, Tsering walked across the way and browsed the CD and cassette collection at the Tibetan music store.  She called one of the numbers on the Embassy list and scheduled Tsering's physical exam.  They could see him the next day.  Jennifer picked up the red receiver to call her mother and  looked up at the clock on the shop wall.  It was 6:30 PM.  Back in the States, her Mom would definitely be awake by now and still home– perfect timing.  She dialed her Mom's number and after a few rings her Mom picked up.
"Hello?"
"Hi, Mom!  It's me, Jenni!"
"Oh, Jenni!  Hi.  Where are you?"
"We're back in Delhi.  Again.  We've been going back and forth, from city to city, creating this crazy paper trail for Tsering's documentation.  It's nuts the hoops we've had to jump through.  But we're almost done.  What a relief!"
"Oh, that's good news.  I'm happy for you.  When are you coming home?"
"Soon.  I'll be scheduling my exact return in a week or so.  I just want to get everything sorted out for Tsering's immigration before I leave."
"Immigration…?  You are really serious about this, aren't you."
"Yes, Mom.  We've already overcome so many obstacles.  Tsering has everything he needs to apply for an immigration visa.  Well, almost everything.  I thought I was going to be able to sponsor him on my own, but I'm not financially sound enough.  They have pretty strict requirements.  The Consular at the Embassy suggested I ask a family member to co-sponsor with me.  I know this is asking a lot of you, especially when you haven't even met Tsering yet and are probably worried sick about the whole situation."
"Yes.  That is asking a lot of me.  But I do not want to stand in your way.  I want to help.  Really I do.  What do you need me to do?"
Jennifer was so relieved to hear her mother say these words.  She had not expected her Mom to support her so quickly like this.  Her Mom was really going out on a limb for her.  She was so grateful.  "Oh, thank you, Mom, you're awesome!  You don't know how much this means to me, and to Tsering!  We really appreciate it."
"All right, enough with the gratitude, let's cut to the chase before I change my mind.  What exactly do you need from me?"
"This year's Tax Returns with all Schedules, your monthly bank statements from the past 3 months, and any of your investment statements."
"That's it?  You're acting like I need to sign away my life on the dotted line or something.  That's no big deal.  I'm happy to help if that's all you need.  Where should I send it?"
"I asked if the Embassy could receive faxes on our behalf.  They can't.  I'll find a local fax receiver and send you the number via e-mail."
"That sounds fine.  I'll fax it all as soon as you send me the number."
"Great, thanks again, Mom.  It's really wonderful to have your support."
"I love you.  I just want you to come home.  And if it means co-sponsoring Tsering to get you here, that's what I'm willing to do.  So, when will he be able to immigrate, if all goes through?"
"I don't know.  Definitely not with me, though.  He has to wait for his Tibetan refugee passport to come through.  They said it will take around 3 months.  We'll figure all that out when we get there.  The most important thing right now is that we submit his immigration application.  I better go, Mom.  Tsering's probably waiting.  Thank you again so much for your love and support.  It means the world to us.  I love you."  Jennifer hung up the receiver and paid for the calls.  She found Tsering out front of the music store with a couple of new Tibetan folk music cassettes in his hand.
The next few days the couple spent their days gathering the final requirements off the Immigration Application list.  Tsering passed his physical exam with flying colors, TB x-ray and all.  Jennifer's Mom sent the financial faxes as promised.  The next Monday they rode back into New Delhi to drop off the completed application at the Embassy.  Once their number was called, Jennifer took out the completed file and slid it under the window to the Consular who then took some time to verify that all requirements were satisfied.   They were then instructed to pay the application fee at the Cashier's Window and return back to the same Consular's window with the receipt.  After paying the $500 fee– almost an equivalent of 25,000 rupees which were bundled in two and a half thick stacks of 100 rupees notes that were stapled together, Jennifer's backpack was suddenly much lighter.  She returned back to the Consular and pushed the receipt under the window, mentioning that she had requested an expedited interview date.  The Consular told her he would be back shortly after reviewing with the Director.
He returned shortly and slid a piece of paper under the window, "This is your interview date.  Bring this letter and any photos or other documentation with you to prove evidence of your relationship.  Get there early– Tsering will need to be fingerprinted beforehand.  Don't miss it.  They won't reschedule you for months.  Good luck."
"Thanks," Jennifer replied as she took the interview letter, feeling like she had just won a golden ticket.
"Tsering-la, we have our interview date!  This is the last and final hurdle.  As long as we can convince the Consular who interviews us that our marriage is legitimate, you'll be approved to immigrate to America!  I can't believe we're so close!" Jennifer could not contain her excitement.
"We pray to Buddha good, Jenni.  So close, yes.  But not there, yet.  Wait and see."  Tsering had a point, it was not over yet.  The interview was scheduled in ten days time, just days before Jennifer's Indian visa was due to expire.  It was really cutting it close.  Before returning back to their rooftop abode, Jennifer suggested they take a short excursion to visit the Gandhi Memorial while they were in New Delhi.  It was mid-day and still much too hot to go home.  They hired a taxi and asked to go see "Gandhi-Ji."  The driver shook his head from side to side in confirmation as he named the area "Raj Ghat" where the Memorial was located.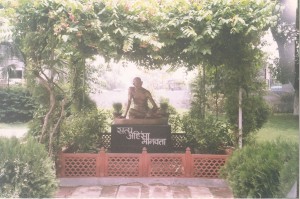 The Memorial was outdoors.  A gently sloped hill overlooked an eternal flame which was burning on a black marble tomb where Gandhi had been cremated.  The couple approached the tomb and took off their shoes before entering the sacred space where other pilgrims were observing silence as they paid homage to the Mahatma, or Great Soul.  People offered marigold leis to the tomb in honor of a life which had become synonymous with non-violence and religious tolerance.  The memorial site imbued a feeling of peace and spaciousness in the open air, welcoming people of all faiths and cultures.  Jennifer was moved by the feeling of devotion that she witnessed in the Indian families who had come here on pilgrimage to pay homage to their country's dearest secular and spiritual leader.  She herself was moved to tears as she remembered the kindness of this selfless man who had accomplished so much in his short lifetime in the names of peace, non-violence, independence and tolerance.
The couple then visited the small museum next to the park that housed a collection of Gandhi's personal belongings and writings.  They spent an hour or so viewing and educating themselves about this remarkable human being.  They saw Gandhi's spinning wheel and loom which he used to make the fabric for his simple white robe, his wooden walking stick, the thin mat upon which he slept, his metal drinking cups, and his wire framed spectacles.  Everything related to this man rang with simplicity.  Perhaps it was this simplicity that allowed the space for his heart to serve others in such momentous ways.  Throughout the museum, Gandhi's quotes were displayed on the walls along with portraits and photographs from his life.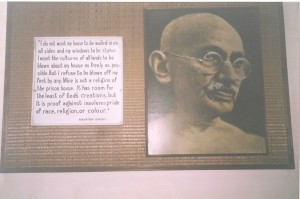 Jennifer was particularly moved by one of the quotes hanging on the wall and took a photograph of it.  It read, "I do not want my house to be walled in on all sides and my windows to be stuffed.  I want the cultures of all lands to be blown about my house as freely as possible.  But I refuse to be blown off my feet by any.  Mine is not a religion of the prison house.  It has room for the least of God's creations, but it is proof against insolence, pride of race, religion, or colour."  The last room of the museum displayed the pistol with which Gandhi-Ji was assassinated by a Hindu extremist.  Jennifer could not help but feel the irony of his death.  He had worked so hard for religious tolerance and acceptance, loving and respecting people of all faiths, and yet it was in the name of religion that he was killed.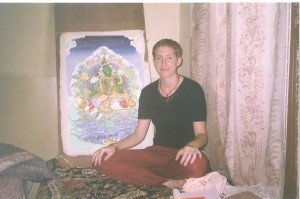 When the sun began to fall in the sky the couple decided to head back to their little rooftop shack.  With the paper trail work behind them, Jennifer decided to take out the unfinished tangkha of Green Tara that she had been carrying with her along their travels.  She thought that now would be an auspicious time to complete her work as an offering to the Female Buddha of Wisdom and Compassion.  Jennifer knew that Tara is a protector, the Great Mother who protects all beings from suffering and fear.  In times of obstacle and struggle or when new projects are being started, Tibetan Buddhists pray to Green Tara to bless their work and mind streams.  She had started the tangkha back in Sarnath under Tsering's guidance– first drawing the deity on the stretched muslin cloth, then painting the base colors.  It was now time for Jennifer to finish with the final steps of adding the shading and fine outlines.  This was the most meticulous and difficult of the work.  With Tsering's help, she re-stretched the canvas back onto the wooden frame that she had also carried with her all this while.  Set up and focused on her one task for the next few days, she started to paint.  Tsering sat on his bed while she worked, studying and writing poetry as he was accustomed to do.  He offered his advice and assistance when she asked for it.
Now that the interview date was scheduled, it was time for Jennifer to confirm her return flight back home to America.  Her sister's wedding was at the end of the month and she knew her family was anxiously awaiting her return after six months out of the country.  She was able to book a flight with the help of their friend Ngawang at the Sunshine Travel Agency right there in Majnukatilla.  She would fly back just a fews day after the interview, hopefully with the knowlegde that Tsering would be joining her on the very same trip in a few months time.  Jennifer wrote an e-mail to her Mother to share the dates of her arrival home.
Since the couple had a week or so of spare time before the big interview, Jennifer thought it would be fun to take a side trip to Agra and see the Taj Mahal.  As a young girl in the fourth grade, Jennifer had written about dreams of visiting the Taj Mahal some day in her social studies notebook.  Agra was just a few hours ride from Delhi and she thought it was the perfect occasion for a visit with Tsering during the month of their honeymoon.  Tsering was excited to take the trip and see India's most famous national treasure.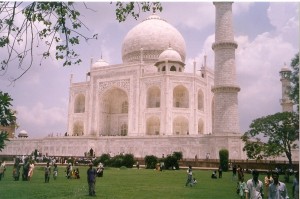 They decided to take a train to Agra and arrived in the crowded city center which was mobbed with Indian tourists, merchants hawking souvenirs, and tour guides trying to book hotels and tours.  Jennifer had expected to see foreign tourists in Agra but apparently most of them avoided visiting on this particular day– it was free admission day for Indian citizens.  The crowds were huge but Tsering and Jennifer enjoyed the excitement.  They found an entrance to the Taj and entered through a huge gate.  There it was, as gorgeous and huge as Jennifer had anticipated.  They took pictures in front of the reflecting pools and strolled towards the majestic white dome that spiraled towards the sky.  Once up close they could see the intricate and meticulous detail of the stonework.  The white marble was decorated with inlays of red and green stone in mesmerizing geometric patterns.  It was awe-inspiring.  Once inside the tomb, they entered the burial chamber of the Emperor and his Empress for whom he had built the mausoleum.  Jennifer read a marker at the side of the tomb which read, "The Taj Mahal was built between 1631 and 1653 by Emperor Shah Jahan as the tomb for his wife Arjumand.  Better known as Mumtaz Mahal, 'Ornament of the Palace.'  Born in 1592, the daughter of Asaf Khan, she married Shah Jahan in 1612 and died in 1631 after the birth of her fourteenth child.  After his death the Emperor was buried by her side."  Jennifer's awe for this architectural miracle was multiplied by the emotional history of love and devotion which it represented.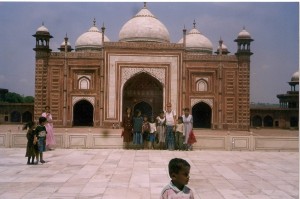 After visiting the main attraction, Jennifer and Tsering took the rest of the day to visit the surrounding sites such as the Mini Taj and the Agra Red Fort.  Each place they went, Jennifer was surrounded by young Indian children who were thrilled to see a Westerner.  Her fair complexion and red hair was a complete oddity to them and they could not resist touching her freckled skin.  They asked to be photographed with her.  At one point she was surrounded by a throng of children five deep so that it was impossible for her to move in any direction.  They were all asking her for money and calling out "America! America!" with shrilled excitement.  Luckily she had some chocolate in her bag that she could share with the children.  She distributed it amongst the frenzied little hands that reached up to her which then gave her enough time and space to wiggle herself free from their mass.
Satisfied with their touring, Jennifer and Tsering headed back into the city center to pick up some souvenirs before finding a hotel.  While walking down the street a tall, bearded Punjabi man wearing a blue turban approached them.  He invited them into his jewelry store.  Jennifer was suspicious of his forward sales technique and declined.  He assured them that he was honest and once again invited them into his store to have some tea.  Enticed by the promise of hot tea, they took him up on his offer and followed him into his shop.  He brought them through the main show room where expensive Indian gold jewelry was on display and then led them back to a private show room.  He asked them to take a seat while they waited for tea to be delivered from across the street.  He explained that he had a business proposal for them.
"I have met so many young foreigners like yourself, Miss, who have been able to make a good profit from the sale of Indian silver jewelry.  It seems to be a very popular item in your country.  You are from America, am I right?"  Jennifer nodded her head in confirmation, still unsure of where this was going.
"Well you see, I sell silver by the kilogram, or pound as you Americans say.  I think you should take a look at my silver and precious stone collection– rings, earrings, and pendants– and choose whatever you like.  Then you can bring it back to America with you and sell it for a considerable profit.  My clients tell me they sell the jewelry to students on college campuses or at music festivals.  I have met many young backpackers who fund their travels this way.  I promise you, you will not lose your investment.  This is a guaranteed business opportunity."  Just then the tea arrived and the man got up saying, "Please, enjoy your tea.  I will bring my some examples from my silver collection for you to browse."  Jennifer and Tsering sipped their chai as they waited for him to return.
"I don't think this is a good idea, Tsering.  We don't have that much money to spare-  $200 at the most.  But it's true what he says about silver being really popular back home– I myself love the stuff.   And now that we've paid your immigration application fee and bought my airplane ticket home, we have some money left over after our careful budgeting.  What do you think?"
"I think good, Jenni.  We can make more money.  We look, then decide."  The man returned with a large bag which he emptied out onto the mahogany table.  Hundreds of hand-crafted silver jewelry pieces ornamented with semi-precious stones rolled out onto the deep red surface of the table.  Jennifer felt like a kid in a candy shop.
"Go ahead, take your time, pick the pieces that you like and we will weigh them on the scale.  When you have reached your limit we will stop."  Jennifer combed through the pile, picking up and examining each piece meticulously before setting it on the scale or pushing it aside into a discard pile.  Lovely rings, pendants, and earrings decorated with turquoise, amethyst, tiger eye, opal, moonstone, quartz, garnet, malachite, coral, lapis, and many others that she didn't know by name all caught her eye.
"You will find a few Tibetan pieces somewhere in there as well.  You are Tibetan, am I right?" the man asked Tsering.
"Ji.  Maim Tibbati hum," Tsering confirmed in Hindi.  The two men continued to converse in Hindi while Jennifer continued her pleasurable work of jewelry shopping.  She happened across a few Tibetan pieces as the man had predicted, cheering in delight when she did.  The Tibetan pieces were large pendants featuring beautiful turquoise and coral stones.  By the time Jennifer had combed through the entire pile, she had run out of room on the scale for her "yes" pile.  She was sure she was way over budget and would have to go through her selections a second time and discard more.
"Okay.  I've made my choices.  Let's weigh this and see how much it comes to."  The man weighed her picks in two batches and told her the total weight had come to just over half a kg, costing 10,000 rupees.  She didn't want to spend more than $200 so she weeded out some of her least favorites until she was just under a total cost of 9,600 rupees.  She felt a rush of nerves rush through her body as she made the quite spontaneous decision to buy a pound of silver like this.  The man took her selections and placed them into a plastic jewelry bag.  Jennifer reached into her backpack and took out 10 stacks of stapled 100 rupee notes which she slid across the table to the man.
"Don't worry– you will sell every piece and be happy you made this wise business decision today!  Here is my card.  When you need more, please contact me to purchase again.  I would like very much to do business with you in the future!" Jennifer took his business card and placed it inside the plastic bag with the silver.
"Yes, sure.  Thank you for the tea.  You are an excellent sales man!" she laughed as they left.  Jennifer wasn't sure how, when or where they were going to start their new business venture, but she knew that this kind of jewelry never goes out of style and that there was no rush.  They would be able to use the profit from this first little business venture as seed money for something bigger in the future.  She felt lucky to have been approached by the Punjabi man.  This was never something she would have considered to do herself.
Jennifer and Tsering found a simple hotel just down the street from the jewelry store and checked in for the night.  They celebrated their honeymoon with a delicious meal at an Indian restaurant and then enjoyed the pleasure of each others warmth that night.  Jennifer's childhood dream of visiting the Taj Mahal had come true.  Yet the circumstances of its realization were beyond her wildest dreams.