Little Moon Tibetan Gift Shop Blog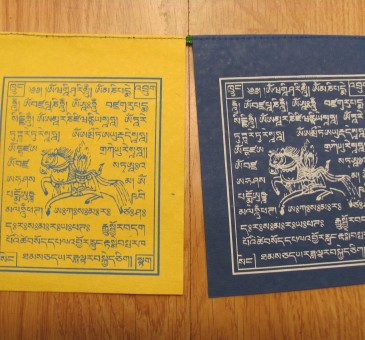 Today is the launch of our new website! The Tibetan calendar has just ushered in the Year of the Wood Horse and we are excited to launch our new website just in time. We are really happy with the new look and design of our site and hope you are, too! In honor of Little Moon's 10th year anniversary, the launching of our new site, and the start of the year of the Wood Horse, we are offering customers with orders over $50 a free set of hand-made paper prayer flags with the Wind Horse printed on them ($10 value).
Please stay awhile and browse the many items we have on our site. Also, please connect with us by registering an account so you can receive newsletter updates from us. If you have a facebook account, connect with us by liking our page at the bottom of the site's homepage. We love for new people to discover us, so if you are so inclined, please share our page with your networks!
Tashi Delegs! May it be auspicious!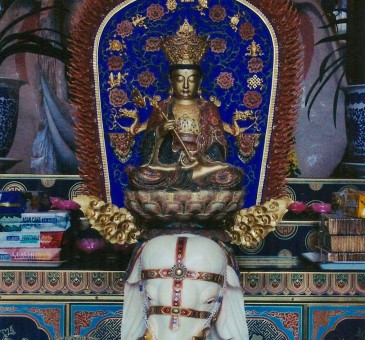 When the baby was one month old, Jennifer and Tsering were finally able to move into their new home.  The City of Albany had completed the lead abatement and rehab work as promised and they were given the clear to move in.  Tsering continued to work through the summer months at the hospital while Jennifer had the summer months off from teaching.  She fell into her role as mother quite naturally and enjoyed cooking and home-making in their new home.  Tsering was able to take a two-week vacation from his job and they drove out to Padma Samye Ling to join the sangha for the summer Dharma retreats.  [read more]
Chapter 20- Albany: Growing Roots and a Family
As the summer season approached, Tsering and Jennifer were starting to commute Upstate on a regular basis to spend time at Padme Samye Ling.  There was always plenty of work to be done in and around the large temple and they enjoyed escaping the hustle and bustle of city life whenever they could.  By late Spring, as the weather started to get hot and humid, their sixth story studio was becoming uncomfortable to sleep in.  At the retreat center they were able to sleep outdoors in their tent where the climate was much cooler in the fresh mountain air.  Jennifer decided that they should sublet their apartment to a co-worker for the summer months so they could vacate the city and live on the land at Padme Samye Ling.  She gave away her shifts at the restaurant and they settled into a relaxed retreat schedule with the Rinpoches and sangha.  [read more]
Part III- A Foot in Both Worlds
Chapter 19- Seattle & Brooklyn: Coming to America
Just before dawn, Jennifer heard a car pull down the alley in front of their building.  She looked out the window and recognized the shape of the white Indian taxi cab.  "Tsering-la, our taxi's here!  Oh my gosh– can you believe it?!  Your trip to America is beginning!"
"Urgyen Rinpoche!" Tsering exclaimed quietly under his breath a quick and urgent prayer to Guru Rinpoche that Tibetans often say in times of worry, surprise, distress, or fear.  Tsering and Jennifer gathered up their things and carried their luggage down the three flights of stairs into the dark alley where the driver was waiting for them.  [read more]
Chapter 18: Reunion in Tso Pema
Jennifer and Tsering spoke on the phone one last time the night before her flight back to India.  She told him to check his e-mail messages for her flight arrival time and details so that he could meet her at the airport.  Tsering had already taken a bus to Delhi where he found a room for them in anticipation of her arrival.  Although he had enjoyed spending time with his friend Urgyen in Dharamsala, his heart was longing for his bride.  Jennifer's Grandfather kindly offered to drive her into the City and drop her off at JFK.  She promised him that she would be back soon– no longer than six weeks this time.  She got her bag out of the trunk and waved good-bye to him and walked into the terminal.  Her two flights were on schedule and uneventful.  After she passed through customs in the Delhi airport, she exited out into the lobby where crowds of taxi and rickshaw drivers were looking for fares.  [read more]
Chapter 17: Separation Across Continents
Jennifer and her Grandfather drove up the Hutchinson Parkway into the suburbs of Westchester.  She had been living with her Grandparents while she was performing circus gigs on a freelance basis before her trip to India.  Her Grandmother had passed away in her sleep early one morning while Jennifer was boarding a plane for a corporate gig with General Motors in Uruguay.  She had plans to move out of her Grandparents' home in Scarsdale and rent an apartment with a friend in Brooklyn, but after her Grandmother's passing, she decided to stay with her Grandfather for a short interim longer.  She wanted to help him through the grieving process and provide company for him.  A few months after his wife's passing, Jennifer's Grandpa bounced back to life.  He started to be social again with friends at the country club he belonged to and even made some new friends that were widowers.  He bragged that he was a "catch" according to the bridge club ladies.  [read more]
Chapter 16- Final Days Together & The Parting of Ways
The couple checked out of their hotel in Agra the next morning and caught a train back to Delhi.  Jennifer was focused on the upcoming interview and wanted to be sure Tsering was prepared.  During the train ride she quizzed him on all the details and dates that were part of his newly acquired paper trail and immigration application.  Tsering had a hard time remembering the dates– Tibetans function on a completely different calendar than the West.  They use a lunar calendar as opposed to a solar one.  To add to Tsering's confusion, the concept and importance of dates was new to him– he didn't know what his actual birth date was.  His mother had simply told him that he was born at the time of the harvest in the Year of the Ox.  Birthdays were traditionally celebrated on Losar, the Tibetan New Year by all Tibetans alike.  So, Jennifer continued to stress the importance of dates in western society to Tsering and told him that a minor slip-up on a detail concerning an important date like his birth or their marriage might very well cost them his immigration visa.  [read more]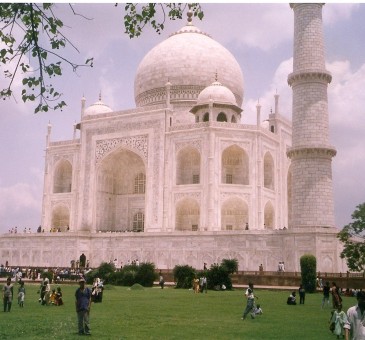 Chapter 15- Delhi & Agra: The End of the Paper Trail, Homage to Gandhi-Ji and Honeymoon at the Taj Mahal
It was time to say good-bye to Dheradun.  Jennifer and Tsering stopped by the Tibetan sweater market to express their thanks and good wishes to Dolma one last time before boarding the bus outside the Rang Mahal hotel.  Once back in Delhi they tried to check back into the Tashi Delegs house but were told they were booked.  The manager also mentioned that they did not allow guests to cook on the premises.  They were going to have to find accommodations that allowed the use of kerosene stoves.  As they walked down the main pedestrian street of Majnukatilla with their bags in tow, Tsering inquired about rooms for rent with the people who were lingering in the market.  After several attempts, he was given a good lead by a young Khampa man.  He told Tsering to turn down the next alley on the right where a baby was taking a bath in a pink plastic basin.  At the end of the alley would be a door numbered #3.  They should go up three flights and then ask for Ama-la. [read more]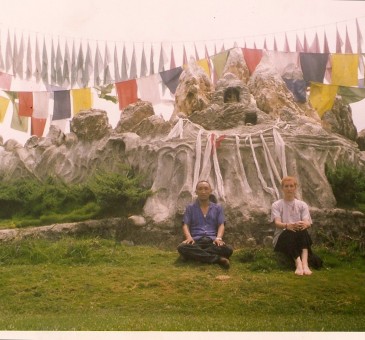 Chapter 14- Rajpur & Clementown: Saga Dawa Wedding
The next morning the young couple woke up and went to the Tibetan market to visit Dolma and discuss their next steps on the paper trail.  Tsering handed Dolma his newly acquired birth certificate.
"Yagpo duk.  Good!" she said, looking it over and explaining that she was going to bring it to another office where she would help Tsering file a refugee certificate application.   [read more]
Talented artist and friend Zoeann Murphy also created a great promotional video for my book "Lotus Love" that is being published here on the littlemoon blog.  It features some great photographs taken by the family back home in Tibet as well as some of Zoeann's professional photos from her trip to Tibet.  Check it out!
[tentblogger-vimeo 33836269]