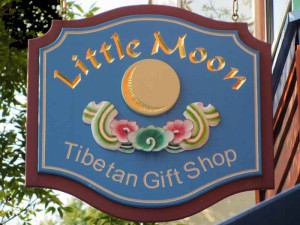 Shipping and Return Policy
All purchases will be shipped within 7-14 business days after transactions are completed. We do not accept COD's. All domestic orders ship through the United States Postal Service via flat rate. For all international orders, international shipping rates will apply. If you are not satisfied with your purchase upon receiving your item(s), please notify us within 7 days. All purchases must be returned within 30 days from the date of receiving your order. All purchases that are returned MUST be in their original packaging, not worn, returned with the original invoice and NOT damaged. Little Moon Tibetan Gift Shop reserves the right to refuse any item returned after the 30 day period.
We will issue you a refund to your bank account/credit card, minus the original shipping and handling cost, once items are returned to our store.
Please Note: Special orders and custom-made items are not returnable.
For returns, please contact info@littlemoonshop.com, include your order number, the item(s) purchased, and reason for the return. A return authorization number will be provided and must be included on the original invoice. Please make a copy of your original invoice with your return authorization number for your records. Please note that when contacting us, this authorization number will be validation for return credit.
To Return an Item:
1. The item must be in the original packaging, not worn, returned with the original invoice, return authorization number, and NOT damaged.
2. Please pack the item in a sturdy package, seal with strong tape and write "Fragile" on the outside of the package.
3. Address the package to:
Returns Department
Little Moon Tibetan Gift Shop
467 Madison Ave
Albany, NY 12210
For your protection, ship all returns prepaid and insured via United States Postal Service (return postage and insurance will only be refunded when appropriate).
Please call us during business hours if you have any questions about items you see here at our online store.  We are more than happy to assist you.  If you prefer, contact us via e-mail and we will respond as soon as possible.
We also can take special orders for specialty items.  Please contact us to inquire.
If for some reason you are unhappy with an item and need to return it, please contact us and we will arrange for return.  We will fully reimburse you upon receipt of the item in its original condition.  Return shipping will be at your expense, so please be certain that you want an item before purchase.
Most of our merchandise is one-of-a-kind and handmade so slight imperfections are to be expected.   Clothing is to be hand-washed and air-dried as most of our clothing items are not dye-fast or pre-shrunk.  All clothing is made in Asia so sizing does not correspond directly to American sizes.  Please buy one size larger than you would normally buy here in the States.  If you question your proper size, please contact us and we will assist you in your order.  It is preferable that you come to our store to try clothing on before purchase if possible.