Search results for: feed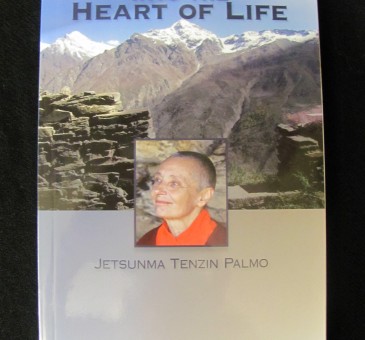 The real test of our Buddhist practice happens not on the cushion or in the protected space of retreat but moment-to-moment in daily life, particularly when we find ourselves in uncomfortable situations. How do we respond? In this book, one of the most respected Western figures of contemporary Buddhism, Jetsunma Tenzin Palmo, offers insights gleaned from more than forty years of engagement with Buddhist practice. Her perspective is vast, with a well-grounded understanding of how the timeless Buddhist teachings apply to the demands and challenges of modern life.
| | |
| --- | --- |
| Down-to-earth, approachable, and deeply informative, this collection of talks and dialogues covers a wide range of topics, always returning to practical reflections on how we can enhance the quality of our lives and develop more sanity, fulfillment, wisdom, and compassion. Into the Heart of Life is addressed to a general audience and presents practical advice that can be applied whether or not one is a Buddhist. | |
"Jetsunma Tenzin Palmo is an accomplished spiritual practitioner and teacher who is able to touch the hearts of many through her teaching and her presence…. I am certain this book will benefit many. This is a book for everyone who needs and wants to know the path to genuine happiness."—from the foreword by H.H. the Gyalwang Drukpa
"Jetsunma Tenzin Palmo takes the core teachings of the Buddha and weaves into them deep personal insights and riveting stories from her unusual history as a member of an extraordinary tradition. It is amazing that no matter how many times you hear these essential teachings, they continue to penetrate deeply. This book provides practical wisdom for anyone interested in bringing the teachings to life."—Elizabeth Mattis-Namgyel, author of The Power of an Open Question
"This is a warm, wise, and rich evocation of Buddhism for East and West. Written in a radiant yet approachable style, we can taste the dharma realization in every word."—Roshi Joan Halifax, Founding Abbot, Upaya Zen Center
"Into the Heart of Life radiates Jetsunma's enthusiasm for life and makes the Buddha's teachings readily available so that we can integrate them seamlessly into our being, thus transforming ourselves from the inside out. Readers will feel that Jetsunma is sitting right there with them, talking over a cup of tea."—Thubten Chodron, author of Buddhism for Beginners and Working with Anger
Jetsunma Tenzin Palmo was raised in London and became a Buddhist while still in her teens. At the age of twenty, she traveled to India, becoming one of the first Westerners to be ordained as a Buddhist nun. The international bestseller Cave in the Snow chronicles her twelve years of seclusion in a remote cave. Deeply concerned with the plight of Buddhist nuns, she established Dongyu Gatsal Ling Nunnery in India. In 2008 His Holiness the 12th Gyalwang Drukpa, head of the Drukpa Kagyu lineage, gave her the rare title of Jetsunma (Venerable Master).

MORE REVIEWS…
"Tenzin Palmo is one of the most genuine and accomplished of Western practitioners."—Jack Kornfield, author of The Wise Heart
"One of the true yoginis of our time, a woman who has dedicated her life to Buddhism…Tenzin Palmo's is a voice we need to hear, a woman who has fully experienced what she speaks about with an absolute honesty, delightful humor, and real insight."—Tsultrim Allione, author of Feeding Your Demons
"The sincerity and motivation of Tenzin Palmo are a great example for all of us."—Martine Batchelor, author of Meditation for Life
"Whether she is talking about impermanence or bodhichitta, this internationally known Western Buddhist nun offers honest, pragmatic advice on how to enrich life through compassion."—Tricycle
"Into the Heart of Life…explains classic Buddhist themes such as impermanence, karma, renunciation, bodhichitta, and devotion—all in her direct and approachable style. Each talk is followed by a question-and-answer session in which she responds with anecdotes and reflections drawn from her years of Buddhist training, her experiences meditating in the cave, educating women in the Himalayas, and working to revive full ordination for Tibetan nuns."—Buddhadharma Magazine
"Palmo presents an incisive overview of Buddhist essentials from the perspective of her 40 years of spiritual practice. In this era of noisy confrontations, war, me-first activity, and ethical misconduct, we need this kind of wisdom."—Frederic and Mary Ann Brussat, Spirituality & Practice
"Palmo adds a strong voice to the ongoing discussion of Tibetan Buddhism as practiced by individuals—particularly women—from Western cultures."—Publishers Weekly
"Forty-plus years of Buddhist practice have given this Westerner unique insight into the philosophy and application of Buddhism…. Her intention is to make life easier for those engaged in busy, modern lives, and she has been extraordinarily successful towards that end. Proceeds from the book will go to support the nunnery, which is dedicated to preserving the oral teachings of the yogic tradition of the Drukpa Kagyu lineage. (The female practice of this lineage was destroyed during the Cultural Revolution.)"—Anna Jedrziewski for New Age Retailer
"Every step, every thought, every breath we take is a test of our Buddhist practice—so believes the author of this book. Her vast knowledge, incomparable experience and her well-grounded approach to Buddhism in its practical applicability are reflected in the wide array of subjects covered in this collection of talks and dialogues. As this approach to Buddhism is to overcome the pitfalls of daily modern living, naturally a vast area of ethics is encompassed in this book. But then it also transcends mere good behavior to proceed towards the spiritual realm. It is this amalgamation which enables the reader to glean information and build a foundation which forms a solid basis to enhance the quality of our lives and develop more sanity, fulfillment, wisdom and compassion."—East and West Series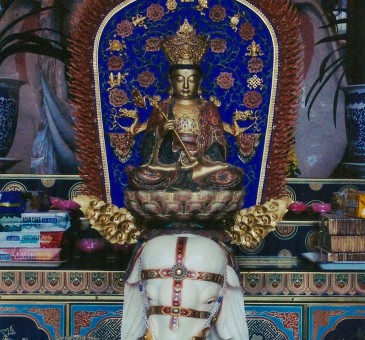 When the baby was one month old, Jennifer and Tsering were finally able to move into their new home.  The City of Albany had completed the lead abatement and rehab work as promised and they were given the clear to move in.  Tsering continued to work through the summer months at the hospital while Jennifer had the summer months off from teaching.  She fell into her role as mother quite naturally and enjoyed cooking and home-making in their new home.  Tsering was able to take a two-week vacation from his job and they drove out to Padma Samye Ling to join the sangha for the summer Dharma retreats.  [read more]
Part III- A Foot in Both Worlds
Chapter 19- Seattle & Brooklyn: Coming to America
Just before dawn, Jennifer heard a car pull down the alley in front of their building.  She looked out the window and recognized the shape of the white Indian taxi cab.  "Tsering-la, our taxi's here!  Oh my gosh– can you believe it?!  Your trip to America is beginning!"
"Urgyen Rinpoche!" Tsering exclaimed quietly under his breath a quick and urgent prayer to Guru Rinpoche that Tibetans often say in times of worry, surprise, distress, or fear.  Tsering and Jennifer gathered up their things and carried their luggage down the three flights of stairs into the dark alley where the driver was waiting for them.  [read more]
Chapter 18: Reunion in Tso Pema
Jennifer and Tsering spoke on the phone one last time the night before her flight back to India.  She told him to check his e-mail messages for her flight arrival time and details so that he could meet her at the airport.  Tsering had already taken a bus to Delhi where he found a room for them in anticipation of her arrival.  Although he had enjoyed spending time with his friend Urgyen in Dharamsala, his heart was longing for his bride.  Jennifer's Grandfather kindly offered to drive her into the City and drop her off at JFK.  She promised him that she would be back soon– no longer than six weeks this time.  She got her bag out of the trunk and waved good-bye to him and walked into the terminal.  Her two flights were on schedule and uneventful.  After she passed through customs in the Delhi airport, she exited out into the lobby where crowds of taxi and rickshaw drivers were looking for fares.  [read more]
PART II: Karmic Crossing
Chapter 7- Sarnath: Their Paths Cross
Jennifer arrived at JFK three hours before the flight was scheduled to leave, just as the Lamas had instructed her.  She had to wait with her luggage until the check-in counter opened for her flight.  She walked around the hall looking for her Teachers but they had not arrived yet.  Soon she saw the distinguishing flash of maroon and saffron robes enter the hall and approached the Lamas, asking if she could help with their luggage.  They declined explaining they needed to get some exercise before the long flight.  They had arrived just as the check-in counter opened.  Once their luggage was checked and their boarding passes were in hand, the Lamas suggested they go pass the two remaining hours before their flight over tea.  They found a small round table and the younger Khenpo brother went to get tea for three.  He returned and they all drank tea with milk, no sugar, as the brothers were diabetic.
"Have you seen Katherine, yet?" the Lamas asked Jennifer.  Katherine was one of the other American students who would be travelling to India on the same flight.
"No.  She must be arriving any minute, now.  I'll keep my eye on the check-in counter for her." Jennifer replied. The Lamas asked Jennifer how her acting career was going.
"Not so well," she replied. "I'm working some short circus jobs here and there but not having any luck getting any long term acting work in the City.  The auditions are really competitive.  I am considering giving up on acting and getting into teaching."
"Teaching what?" the older brother asked.
"French or theater.  I have a degree in both these areas and both my Mom and Stepfather have suggested I follow in their footsteps– for a steady income and job security," she replied.
"You should continue acting.  It gives you a lot of freedom and you are unattached.  This allows you to travel and be like a wandering yogi, just like the Buddha!" the younger Khenpo brother explained.  Jennifer appreciated their confidence and approval of her bohemian lifestyle.
Just then, Jennifer saw Katherine approach the check-in counter.  She excused herself to go greet her.  Katherine and Jennifer were good friends.  They had grown close in the Sangha, attending teachings together and working on the temple walls together.  Katherine was a bit older than Jennifer and the two had a sisterly relationship.  They looked like they could be related– Katherine had long strawberry blond hair, fair skin and pale blue eyes.  They also shared a common past as Katherine had once attended the same summer camp in Vermont as Jennifer.
Katherine had arrived just in time, their flight was called for boarding and they all headed towards the gate.  The Lamas spent the entire flight in silent recitation of mantra and meditation.  Jennifer noticed that they hardly slept like most of the passengers.  She was too excited to sleep and spent most of the flight reading, writing, and praying alongside the Lamas.
They had a short layover in Europe and then continued on to Delhi.  They arrived early in the morning when it was still dark.  The moment they landed the Lamas took a very protective role over her and Katherine.  Having never travelled to Asia before, they felt responsible for their safety.  Soon after passing through customs they were greeted by Loretta, wearing a red beret, who had arrived in Delhi a few days previously after a shopping trip to Nepal.  She helped them all find their luggage which did not ride around a conveyer belt like Jennifer was used to back in the States but sat randomly all over the terminal floor, waiting to be claimed.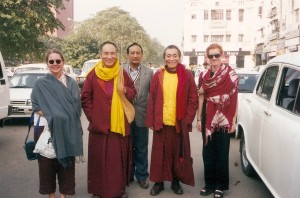 They left the terminal and were bombarded by hawkers looking to carry their bags or give them a lift in a rickshaw or taxi.  The Lamas and Loretta shooed or pushed them away and made their way through the crowd to a white hired taxi where two Tibetans were waiting for them.  "This is Dr. and Mrs. Tashi," Loretta said in her British accent, introducing Jennifer and Katherine to the Tibetan couple. "They are long time friends of ours.  They have found suitable accommodations for you both while we stay here in Delhi for a couple of days before we fly to Varanasi."  Dr. Tashi was dressed in western clothes and Mrs. Tashi wore a salwar kameez, traditional Indian attire for women of a tunic worn over matching pants.  The couple greeted the Lamas with white katags and Dr. Tashi quickly took their luggage and put it in the large trunk of the taxi.
"These are our good friends, Katherine and Jennifer," the older Khenpo brother explained to the Tashis in Tibetan.  "They have joined us for pilgrimage."
"Welcome to India!" said Mrs. Tashi in perfect English to the young women.  "I hope you had a comfortable flight and that you are not too tired.  Were you able to sleep at all?  Is this your first trip to India?"
"No, we didn't get too much sleep.  We were too excited!" replied Kate. "This is our first trip to India.  Thank you so much for helping us. Is it always this busy at 4 AM?"
"It's always busy in Delhi!" Mrs. Tashi replied.
"And I thought New York City was 'the city that never sleeps!'" Kate laughed.
The American women were dropped off at their hotel to rest and Loretta came in to make sure they were comfortable.  She told them to rest, wash up and then get ready for a nice meal and tea in the city center with everyone.  The two were so jet lagged that as soon as Loretta left they both fell on their beds into a deep sleep.  Eight hours later, they were woken by the phone.  Jennifer answered.  "Hello?"
"We are waiting for you in the taxi downstairs." It was Loretta. "Are you up and dressed, yet?"
"No, we've been asleep since you last left us.  We must have slept straight through the alarm.  We'll be down in ten minutes."
"All right.  But please hurry.  The Lamas are waiting for us at the restaurant," Loretta said before hanging up the phone.
"Kate, Kate, wake up!" Jennifer said as she jumped off the bed and scrambled to find her toiletry bag in her suitcase.
"What? What time is it?" she said in a confused manner, looking at the alarm clock. "Oh no, I forgot to set the alarm!"
"Loretta just called.  She's waiting for us downstairs in the taxi. We've got to move," Jennifer said through a mouthful of toothpaste.
"But I need to shower and change."
"I know, so do I, but there's no time.  The Lamas are waiting at the restaurant for us."  The two fumbled their way down to the lobby feeling no better than they had eight hours before.  The jetlag had a strong hold on them yet.  Loretta looked bright and chipper and opened the door for them to climb into the large cab.  There were two rows of seating, one facing the other, and the driver wore a turban.
"Connaught Place, please," Loretta said to the driver. "We're going to eat at this great old Tea House, very British," she explained. "It's right in the center of Old Delhi with some great shopping."
This was the first time the two Americans had seen Delhi in the daylight.  The sights and sounds quickly woke them up out of their jetlagged daze.  The streets were crowded with taxis, mopeds, rickshaws, both electric and man-powered, many bicycles, pedestrians and even cows.  As they sat in the quiet and safety of the taxi they held scarves over their mouths to keep from breathing in the exhaust and pollution.  It was like watching a three-ring circus.  Everywhere they looked there was an interesting scene to behold.  Street vendors, shops, and so many people!  "How do they all manage to fit into this space together?" Jennifer wondered to herself.  "It's like a controlled chaos of some kind."
They arrived into the big circle of Connaught Place and Loretta directed the driver to the restaurant.  They got out of the cab and entered the restaurant, greeted by the host.  He recognized Loretta and brought her to the table where the Lamas were patiently waiting and drinking tea at a large round table set with a white tablecloth, silver and china.  "Tashi Delegs!" the Lamas greeted them in Tibetan. "How did you sleep? Are you hungry? The food is so delicious here. This is our favorite restaurant in Delhi!"
"And it's very clean, too," added Loretta.  She had warned the young women about the dangers of bacteria in the food and water in India.  She told them they couldn't be too careful.
They were soon joined by Dr. and Mrs. Tashi who sat in the last two chairs.  They all enjoyed a delicious Indian meal of curries, rice, daal, and naan.  After the meal the Lamas were taken back to the Tashis home to rest while Loretta and Mrs. Tashi took Jennifer and Kate to the shops around Connaught Place.  They bought some postcards to send home and enjoyed the sights.  A few hours later the Americans took a cab back to their hotel and were finally able to freshen up.  They wrote postcards and chatted excitedly about the next leg of the journey to Varanasi.
That night they were invited to eat dinner at the Tashis' home.  The couple had three children, all around the same age as Jennifer, in their twenties.  The Tashis' home was large and comfortable with an air cooler.  The daughters had prepared a delicious meal and they all dined together, listening to the stories the Lamas told about their shared times together with the Tashis over the years.  After a simple dessert of refreshing papaya, Dr. Tashi swore by it as a daily digestive, a taxi was called to take the Americans back to their hotel.  "Sleep well tonight, girls," Loretta said as she saw them off. "We'll be fetching you early in the morning for the flight to Varanasi. Don't forget to set the alarm this time!"
Kate and Jennifer tried desperately to fall asleep soon after their return to the hotel room.  It was futile, though.  Their inner clocks were still on American time.  They tossed and turned, watched TV, wrote in their journals, and finally fell asleep just two hours before the alarm clock rang.  They jumped up and made sure to be waiting in the lobby when Loretta and the taxi arrived to take them to the airport.
The flight to Varanasi was short, just a couple of hours.  The airplane was a small commuter plane and their party seemed to take up half of the seats.  The plane touched down at a small airport that had only one runway and as soon as they stepped off the plane the Rinpoches were greeted by a group of Tibetans with white katags in hand.  They were led outside to more taxis and all together the group made a caravan of white taxis and motorcycles to the village of Sarnath, just outside the city of Varanasi.
During the ride to Sarnath, Jennifer got out her video camera and taped this moment they had anticipated for so long.  They passed fields of mustard greens in yellow full bloom lined with tropical palm trees and occasional shacks along the road.  The driver was playing Bollywood songs, Indian pop music, that had a catchy rhythmic beat and beautiful Hindi vocals.  She and Kate were making pilgrimage to the Khenpo brothers' monastery in Sarnath. They had heard so much about this sacred place from their Teachers and found it hard to believe that they were now moments away.  They saw the lead taxi that was driving the Rinpoches turn into a small side street and Jennifer read the sign that said "Pema Samye Chokor Ling."  They had arrived!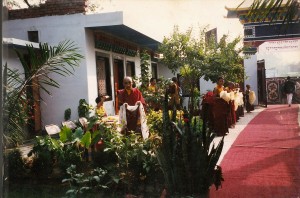 The taxis stopped outside the gate to the monastery and as they got out they heard the sounds of traditional Tibetan ritual instruments: the high pitched wails of the lingbu, a Tibetan clarinet that is played with rhythmic breathing, and the deep blows of the rarung, a long Tibetan metal horn that sounded like elephants' calls.  There was quite a commotion as the Khenpo brothers were welcomed with great ceremony.  A red-robed crowd of monks and lamas lined the courtyard, all holding white katags and burning Tibetan incense sticks in their hands.  Some of the monks were as small as five years of age.  The stone ground was decorated with white chalk in the traditional Tibetan designs of auspiciousness and wealth.
The Rinpoches were led into the temple where they prostrated three times and then took their seats on their thrones.  The rest of the ordained sangha then filed in and respectively prostrated to the Khenpos and took their seats in a hierarchical order according to years ordained.  Kate and Jennifer were unable to squeeze into the temple and Jennifer continued taping from outside.  They soon realized that they were not going to be a priority at this point.  The Rinpoches had not visited India for two years and they were going to be in high demand.  There would be a lot more protocol to be followed now, too.  Things were much more casual back in their American sangha.  Here in India the Tibetans kept a very tight etiquette of respect and tradition in regards to ceremony and the Rinpoches.
Jennifer noticed that she and Kate were not the only westerners who were there.  There were several others, taking pictures and trying to catch a glance of the Rinpoches through the crowded temple doorway.  Loretta came and got Jennifer and Kate, telling them that a traditional welcoming tea ceremony was taking place and she wanted Jennifer to film it.  She ushered them through the crowd in the door and brought Jennifer straight to the center shrine and instructed her to film the ceremony from that angle.  Jennifer felt shy and intimidated to be in front of the large crowd of monks and lamas but tried her best to capture the moment on film.  Everyone was given a cup of Tibetan butter tea and a plate of drisi, sweet butter rice with raisins.  They drank and ate in silence while all the devotees lined up to offer their katags and receive blessings from the Khenpos.  At the end of the ceremony the Rinpoches were taken up to their private apartment and Loretta introduced Jennifer and Kate to Thubten and Kunga, two young Tibetan men who worked for the monastery.
"Jennifer and Kate, I want you to meet Thubten and Kunga," she said. "Thubten lives here at the monastery and runs the office.  He is our administrator.  If you have any questions or concerns he can help.  Kunga is our doctor and lives around the corner where he runs a small clinic.  Many of our young monks come from Kunga's village in Nepal."
"Tashi Delegs," said Thubten and Kunga simultaneously, welcoming them both in Tibetan.  Thubten continued in school-learned English, "I will show you to your room. Let us take your luggage for you." He and Kunga went to the gate where the luggage had been dropped off and the Americans helped them find their bags.
"Are you staying a long time?" Kunga asked as he picked up their heavy bags.
"We are planning to stay the entire month; we are following the same itinerary as the Khenpos," replied Jennifer.
"I may stay on a bit longer to also visit Nepal," answered Kate.
"Yes, you must visit Nepal.  That is where I come from.  You have come all the way from America, you should stay a long time," said Kunga.  Kunga and Thubten were both Tibetans born in exile.  Kunga was born in Nepal and Thubten in India.  Both had been schooled by the refugee communities and were fluent in Tibetan, Hindi and English.
The Tibetans carried the luggage up the stairs to the second floor of the monastery where there was a balcony overlooking the courtyard.  Their room was just off this balcony.  Thubten opened the double French doors which were painted orange and put the bags in the corner by the shelves.  "I hope you will be comfortable here.  Unfortunately we are having trouble with the plumbing right now so the shower is not working.  You will have to fetch water in a bucket from the pump in the courtyard near the kitchen if you want to wash. Kunga and I have some business to tend to so we must excuse ourselves.
"Thank you for your help, it is nice to meet you both," said Kate.
"Yes, thank you for the help with our luggage.  Sorry our bags are so heavy and caused you trouble.  We Americans have too much stuff," excused Jennifer as the Tibetans left their small room.  Their bags seemed to take up half the floor space in the small room.  There were two beds, hand-made out of wood, with very thin and hard mattresses.
"We shouldn't have any trouble getting up early sleeping on these beds," said Kate as she sat down on one to try it out.  "Do you mind if I take this one? I'd rather not be next to the courtyard window." she asked Jennifer as she started to unpack her bags.
"No problem," said Jennifer. "I have no preference." She joined Kate in unpacking and felt like she was back in summer camp, dividing up the shelves between each other in the humble shared space.  Jennifer found the chocolate bars she had brought over as presents for the monks.  She knew that most of them were children and figured that chocolate was one of those universal pleasures that she could share with them.  She told Kate she was going to make rounds introducing herself to her monastic neighbors and gift them the chocolates.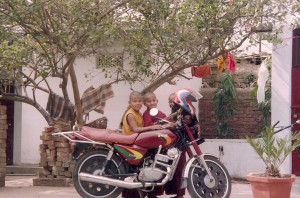 She stepped out onto the balcony that overlooked the courtyard and watched some of the monks playing below.  They were admiring the motorcycles parked by the gate and taking turns riding a bicycle that belonged to the monastery cook.  She then knocked on the orange set of doors to the room just next to her own.  A shy, skinny monk in his twenties opened the door.
"Tashi Delegs," she said, in her fledgling Tibetan.  "My name is Jennifer.  I am from America.  I am staying next door and wanted to give you this chocolate as a gift."
"No English, no English," was all he was able to say as he nervously accepted the Cadbury's Fruit and Nut bar from her hand before quickly closing the door to his chamber.  "That did not go over as planned," Jennifer thought to herself as she continued on with her rounds.  She did not see her neighbor emerge from his room for the following three days.  The other monks were very social and the children were especially playful and appreciative of the chocolate.  The young monks were very excited to learn English and were like little circus clowns, daring each other to speak to her with beginner expressions like "Okay!" "Hello!" "How are you?" "My name is," and "Bye, bye!"
At meal times some of the older monks helped her learn Tibetan, teaching her the names of food and objects around the room like "Choksi" for table, "Kembi" for spoon, and "Dri" for rice.  The food that was served at the monastery was simple and unchanging.  Jennifer noticed that her shy neighbor always took his meals in his room.  She wondered if this was his normal routine or if her presence had scared him away.  It definitely wasn't routine for women to stay in the monastery but the Khenpos allowed their American students, both male and female, to stay in the guest rooms.  "Perhaps it was her red hair and outgoing nature that intimidated him?" she wondered.
Kate and Jennifer adapted to the monastery routine, rising with the morning gong at five AM and joining the monks for prayers in the second floor shrine room dedicated to Guru Rinpoche which also served as a library and classroom. They had no need to set an alarm while staying at the monastery– the Hanuman (Hindu Monkey God) temple across the street did a fine job of waking the entire village at 4:30 with taped musical worship over their loud speaker system.  The first morning that Kate and Jennifer heard it they burst out laughing and danced.  It sounded like dance party music and they promised to somehow get a recording of it as a souvenir before they returned home.
Jennifer also attended the Tibetan language classes taught to the young monks.  These classes were taught by her shy neighbor.  She learned that he was named Tsering.  After a few days adjusting to his new pupil, he grew more comfortable with her presence.  Jennifer had started to study Tibetan the previous year as her practice of the sadhanas, or spiritual practice, had deepened.  After mastering the Tibetan alphabet she had taught herself how to read and write basic words and phrases.  Most of the Tibetan she had learned, however, was not conversational but related to the Dharma.  So she was unable to speak at all.  Tsering noticed that Jennifer had a steady artistic hand and instructed her in the practice of Tibetan calligraphy.  She enjoyed the artistry of the beautiful script but unfortunately did not understand the meaning of the words she was copying using black ink from a glass bottle and a calligraphy pen.  Tsering gave grammar lessons to the young monks who sat cross-legged on the marble floor that was covered in thick straw mats.  He wrote with chalk on a small green chalkboard and the monks copied his lessons onto their own small black slates or notebooks.  Most of them were too young and antsy to follow his well-planned lessons.  They chatted amongst themselves in Nepali, their mother tongue, and giggled at the red-headed American lady who had joined their class.
English class for the older monks was given on the roof top of the monastery when the younger monks were on break.  It was taught by another American, also a student of the Khenpos, who was living in India while working on a thesis.  Jennifer asked Dennis if she could join him to help the monks learn English.  She watched as Dennis gave his lesson and then worked with them individually on their conversation according to the lesson of the day.  She wasn't sure if she was helping them progress or causing more distraction.  They all seemed to be nervous and laugh a lot in her presence.  "Was it because they were monks and she a woman? Or was it the usual nervousness about learning a new language?" she wondered.
A few days had passed since their arrival and Jennifer and Kate had not seen the Khenpos who were busy receiving students and colleagues that had not seen them in two years.  Their schedule was tight and they took their meals privately in their apartment that was in the other side of the monastery.  One day while Jennifer and Kate were eating lunch upstairs, a monk knocked on the door saying that Rinpoches wished to see them.  They quickly followed him back to their apartment, happy to have the opportunity to see their Teachers.
"Tashi Delegs!" they both said to the young women as they entered the apartment.  "Are you comfortable? Are you eating well? How is the food? We hear there is a new cook."  The Rinpoches were being cooked for separately by one of the older monks.
"We are great, Rinpoches, thank you.  Our room is quite comfortable and the food is healthy," said Jennifer.
"The evening thukpa isn't too salty or spicy for you?" they asked.  The young women had both left their soup bowls half full the past couple of nights for this very reason.  Jennifer and Kate looked at each other, unsure how to answer.
"We will ask the cook to not put in so many chili peppers.  We hear he is from Nepal.  Nepalese like chilis too much," they laughed.  "How do you like the village of Sarnath?  Have you ventured out of the monastery, yet?"
"No, not yet.  We have been enjoying the monastic routine and getting to know the monks.  The children are so full of energy!" replied Jennifer.
"Well, we should all take a tour of the village together then!  We can visit the museum where many beautiful architectural artifacts and stone carvings of the Buddha are housed and then walk to Deer Park.  There we can circumambulate the Stupa and take a tour of the ruins.  How does tomorrow sound?" they asked.
"We look forward to it!" the women replied.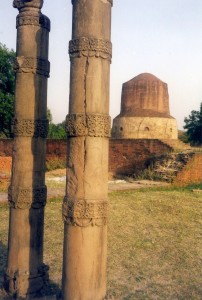 The next day the Rinpoches led a group of the Americans and senior monks on the tour as promised.  Deer Park was beautiful.  The younger Khenpo brother explained the historical significance of the different ruins to them as Jennifer took photos of the many red stone carvings of miniature Buddhas and pillars ornately carved with decorative floral designs.  At the far end of the park there were deer who roamed in the woods.  Villagers sold vegetables and grain to the pilgrims to feed to the animals.  Jennifer and Kate enjoyed offering the deer carrots through the holes in the wire fence that separated them.  The deer were young and their coats were soft and spotted white.  Jennifer was able to stroke their soft noses.
The group then made their way to the large red brick stupa that had been built on the very spot where the Buddha had given his first teaching on the Four Noble Truths over two thousand years ago.  Jennifer watched as the Khenpo brothers held their hands in the lotus mudra over their heart centers and offered prayers before entering the circumambulation path that led pilgrims clockwise around the stupa.  They then approached the structure and touched their foreheads to it to receive blessings before they began to make circumambulation.  The group of monks and Americans followed behind them, chanting mantras and joining the many other pilgrims who had come from all over the world to this very spot to purify, make offerings, and walk together in this clockwise rotation towards enlightenment. Jennifer noticed that some of the Tibetan women who had travelled from Ladakh were prostrating themselves around the stupa, their foreheads dirty from touching the ground continuously.  She was deeply moved by their devotion.
After the group had finished their circumambulation the Khenpos led a ceremony during which many candles were lit at the base of the stupa and prayers were chanted.  The monks joined in while the Americans sat and meditated, absorbing the serenity and pure energy of this sacred place and moment and then offering it back to the universe.  After the ceremony the group slowly dispersed, each going their own way at their own pace.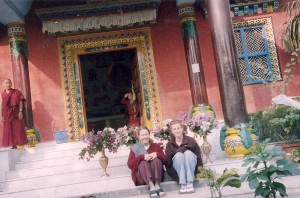 The next few days at the monastery were spent in preparation for the upcoming celebration of Losar, the Tibetan New Year, the biggest holiday in the Tibetan year.  Everyone in the monastery was busy cleaning, cooking, painting, washing, and organizing for the upcoming festivities.  Loretta asked Jennifer and Kate to help clean the Rinpoches apartment.  The older Khenpo brother was busy cleaning out his closet and the two women asked if they could help.  He joyfully welcomed their assistance and enjoyed telling them anecdotes as he pulled various objects down off the shelves, taking a trip down memory lane.  He particularly enjoyed finding two little finger puppets of a dark-haired boy and a red-haired girl.  He playfully put them on his fingers and pretended that the red-headed puppet was Jennifer.  They all had a good laugh.
Then Khenpo sat on his bed and asked Jennifer if she wanted to help work on some of the painting projects that were going on.  He told her that one of the senior monks, Tsering, was a skilled painter and needed assistance painting two of the statues housed in the second and third floor temples of the monastery.  He explained to her that Tsering did not speak English at all but that by working together they would have the opportunity to learn each other's languages.  She accepted the Khenpo's proposition with enthusiasm.
The next day she found Tsering in the second floor shrine with many brushes and paints.  "Tashi Delegs," she said to him.  He stuck his tongue out to her as a sign of respect.  Jennifer had noticed many of the monks doing this when they were in the presence of the Rinpoches so she knew it had to be a respectful gesture in the Tibetan custom and was not insulted.  Jennifer pointed to the paints and then made use of her clowning skills as she made charade-like gestures of painting as she said, "May I help you paint?"
Tsering looked at her with a confused expression and laughed nervously.  "What is she doing?  Is this the way Americans always talk, with their hands?" he thought to himself.  Knowing that she didn't understand Tibetan he just nodded.  Jennifer thought his silence was just due to his shyness and continued to do all the talking.
"What are we going to paint, then?  This statue of Guru Rinpoche?" she asked.
"Guru Rinpoche," Tsering repeated, happy to understand something of what she was talking about, finally.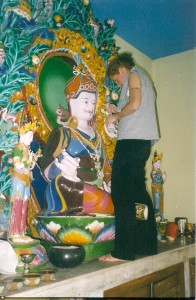 "What color, then?" she said as she started opening the cans of thick oil paint.  The statue had originally been painted by the Bhutanese sculptors who were commissioned to make the statues for the monastery, but the Khenpos were not happy with the colors they used.  They explained to Jennifer that they were particularly displeased with the color of Guru Rinoche's skin, that it was too pink.  It was true, the shade of pink was very close to the color of Pepto Bismol, Jennifer thought.  The Khenpos explained that the scriptures describe Guru Rinpoche's skin to be creamy white with pink undertones.  Jennifer found a can of white and red paint each that could be mixed to find just the right tone.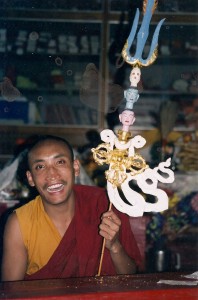 "Red," she said while pointing to the can of red paint.
"Marpo," he replied.
"White," she said as she pointed to the other can.
"Karpo," he replied.
"So Marpo means red and karpo means white," she confirmed to herself.  "Marpo red, karpo white," she repeated out loud, as she always did when learning new terms.  Tsering just stared at her curiously as she started to mix the two colors in an empty glass jar.  She showed him the new color and taking the jar from her hand, he held it up to the statue.  He took over the mixing, adding more white to the jar as he said, "Karpo, karpo."  Jennifer thought that the color was too pale now and added more red to it saying, "Marpo, marpo."  Tsering disagreed and added more white, "Karpo, karpo."  They went back and forth like this several times, finally arriving at an agreement.  This unlikely pair continued to find a way to communicate together and grew comfortable in the silence that was shared when words could not be found.
The night before the Tibetan New Year, Kate and Jennifer thought to venture out into the village to find fresh flowers for sale to offer to the shrine.  They had not been out of the monastery at night before and it was exciting to see the village lit up by fire, candles and little electric lights strung on wire.  They stopped at every stall to look if there were flowers for sale but it seemed that all the flower sellers had sold out of their wares or had returned home for the evening.  Kate had an idea.
"Let's go to one of the Hindu temples.  I know they have marigolds. Maybe if we make a small offering they will let us take some leis with us as a blessing," she suggested.
"Really?  Is that kosher?" asked Jennifer, surprised that Kate would think of such thing.
"Why not?  Our intentions are good, right?" Kate asked.
"All right, if you say so," agreed Jennifer.  She hadn't thought of Kate as so daring and was not used to the sudden change in roles.  The girls heard the sound of drumming and bells up on the moonlit hill.
"That must be a temple up there, let's go!"
Jennifer felt a rush of adrenaline as they ran up the stone steps to the temple.  She was nervous to be entering a Hindu temple at night.  Something about the energy made her feel uneasy.  She reminded herself that they were on a simple quest for flowers and to just be calm. When they reached the top of the hill they were at the entrance to an open-air temple made of stone.  They slowly entered and were greeted by the warm smile of a tall, skinny sadhu with thick dreadlocks wrapped on the top of his head who attended the shrine.
"Namaste," the two women said, holding their hands in lotus mudra to their hearts.
"Namaste," the sadhu replied. Kate noticed the large stone lingham in the center of the temple and giggled.  She nudged Jennifer and looked over at it saying, "This must be a temple in worship to Shiva," knowing that the symbol of the lingham is related to the popular Hindu God.
"Shiva," the sadhu repeated, indicating a statue of the Deity in a small alcove off the main shrine.  He gestured that the women should enter and worship.  Jennifer nervously followed Kate into the alcove and they looked at the statue respectfully.  When they came out the sadhu was holding marigold leis in offering of respect to the women. Kate bowed her head first as the sadhu put the bright orange necklace of flowers around her neck.  Jennifer followed.  The sadhu smiled and put his hands in lotus mudra to his heart and turned to walk away.
"We should probably leave now, Kate," Jennifer said.  She was appreciative of the old sadhu's hospitality and did not want to offend him.
"But we need to at least offer him some money for the flowers," she answered.  "Let's follow him and give him twenty rupees at least."  She looked around the temple and found him standing at the edge of the hill looking out into the starry night. "There he is.  Go give him the money." Jennifer knew it was not necessary but walked up to the old sadhu and against her better judgment held out the paper bill.  The sadhu's face was no longer pleased and he refused to take the money.  He had sensed her insincerity in the offering.
The two women quickly left the temple wearing their marigold leis.  "Don't feel bad, Jennifer," Kate said, sensing that Jennifer had regrets.  "Our intentions are not impure.  We're going to offer the flowers to Guru Rinpoche- the Allstar of Indian Gurus!"  Jennifer laughed; Kate was absolutely right.
When they arrived back at the monastery the gate was locked.  It was late and they had to call someone to let them in.  They called several times but no one came.  The nearest rooms housed the youngest monks and they must have been fast asleep.  Jennifer suggested that she climb the gate and find someone to come back with the key.  Still fit from the circus she was able to climb the iron gate and jump back down into the courtyard uneventfully.  She saw that the light to Thubten's office was still on and found him working at the desk.  She asked him to follow her back to the gate to let Kate in.  Thubten wondered how Jennifer had gotten in and was surprised to find out that she had climbed the fence.  He noticed the marigolds around their necks and asked where they got them.  He laughed at the two strange Americans as they told their story to him.
Kate and Jennifer climbed the stairs to the second floor and saw that the shrine was still open.  Some monks were finishing up preparations for the big celebration that would start before daybreak the next morning.  The women entered the shrine and offered the marigolds to the statue of Guru Rinpoche and the two Dakinis, or consorts, at his side.  They then went to sleep for the few hours that remained before they would have to rise for the early morning ceremony.
For the next three days the normal monastic routine was put on hold as the three-day holiday was celebrated.  Loretta passed out gifts of clothing, school and toiletry supplies to the monks donated by the American sangha members.  Kapsi (traditional Tibetan fried dough cookies folded into different shapes), fruit and sweets were handed out to all in generous portions.  Everyone offered katags to the Rinpoches and the shrine in a large procession.  Rinpoches gave teachings to a large audience of monastics and lay people, many who were students at the Central Institute of Tibetan Higher Studies where the older Khenpo brother had taught earlier in his career.  There was also a traditional debate performed for all.  Tsering had been challenged by another of the senior monks, Acharya Govinda, on the topic of the madhyamaka, the Buddhist tradition that views all phenomena to be empty in nature.  Everyone was thoroughly entertained by the debate even though most of them could not grasp its meaning.  Tibetan debate is stylized with a kind of dance in which the monks take steps towards each other, swinging their malas, or prayer beads, in the air as they clap their hands together loudly to emphasize a point or intimidate the opponent.  It was a sight to behold–these two monks who were so physically different in size, stature and demeanor in debate.  Acharya Govinda was a very large Indian man, both tall and robust.  Tsering, a short and skinny Tibetan man, was dwarfed in comparison by his opponent.  Govinda was extremely confident in public speaking and seemed to almost bully Tsering who was nervous and shy in front of the crowd, constantly clearing his throat before he spoke.  Even though Jennifer could not understand the content of the debate it was obvious who had won.
After the three-day Losar festivities had concluded, Loretta told the girls that it was time to pack a bag for the pilgrimage to Shravasti, the holy site where the Buddha spent the rainy season in retreat.  The Khenpos owned a piece of land there that they wanted to consecrate in preparation for the construction of a stupa dedicated to world peace.  The Rinpoches invited the senior monks and the American students to join them for the journey.
Chapter 5- Nepal/India: Journey West
Once back in Lhasa, Tsering met a friend from his home county of Riwoche who was about to embark on a trip to India, the birthplace of the Buddha and the home in exile of the spiritual and secular leader of the Tibetans, His Holiness the Dalai Lama.  Tenzin had found a guide to help him cross the Himalayan divide between his homeland of Tibet and the Holy land of India.  As soon as Tsering heard his friend's plans he knew he was going to join him.  He had come to Lhasa to continue his studies of Sanskrit but decided that it would be ideal to study in India where the language had its origin.  He had a strong sense of adventure as well and yearned to explore the world outside his Motherland.
Without a moment's hesitation, he paid the fee of 500 Yuan and with just a bag full of Buddhist texts on his back and the disguise of a pair of blue jeans and a denim jacket in lieu of his maroon and saffron robes, he was ready to make the dangerous journey.  Although the group was well aware of the risk and perils involved in their escape, they were all full of optimism and hope that is so typical of Tibetan people.  If they were to be seen by the Chinese police at any point during their escape out of the country via the Tibetan Underground Railroad, they would be arrested and imprisoned at once or worse yet, shot on site.  Yet, in the face of this grave danger they were full of song and laughter.  All together there was just under fifty of them, mostly young adults ready to start life anew, looking for freedom from Chinese oppression and some fleeing persecution.  Some were just children, being sent away from home with the aspiration that they find better opportunities in the refugee community.  A few were monastics like Tsering who wanted to pursue their religious studies and practices.
They walked under the cover of night, starting the journey on the first night of the New Moon when the sky was at its darkest.  They slept during the day, under the generous protection of Tibetan villagers who allowed potential refugees to sleep in their barns or homes.  These families provided them with food and shelter despite the equal risk they took in doing so.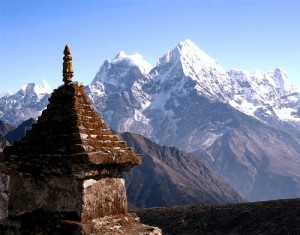 Each individual was responsible for his own sustenance once they left the comfort of the villages and headed into the barren and treacherous mountain passes.  They climbed to snowy altitudes as high as 21,000 feet, and with no protection from the elements most of them suffered from severe frostbite, losing fingers, toes, or worse.  They survived on their individual rations of dried yak meat and tsampa which they all carried in their own bags.  They walked fourteen hours a day and camped at night.  After twenty four days they reached the end of the journey as they descended into the tropical valley of Nepal.  Although relieved to be through the most physically challenging part of the journey, they were not completely out of danger.  If caught by the Nepalese police they would be arrested and turned over to the Chinese authorities.
As the group walked along a mountain road towards Katmandhu, they waved down a passing bus.  The driver agreed to take them to the city.  The exiles were so relieved to be seated but many of them suffered from motion sickness as is typical of Tibetans who are not accustomed to riding in vehicles.  The bus driver agreed to drop the group off near the Tibetan refugee community known as Bodhanath.  Unfortunately he had conned them and drove them straight to Police Headquarters where he was paid a rich sum of rupees for turning in such a large group.  The Tibetans were placed in a large group cell and spent several days there.  The group came up with a plan, knowing that if they were handed over to the Chinese authorities they would face imprisonment.  They decided to tell the guards that one member of their group had gone missing, a young girl.  Believing that their story was true and in fear of repercussions, the Nepalese guards decided to release the group.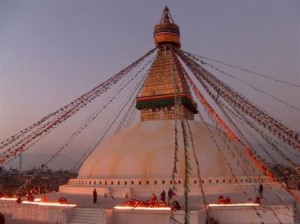 They quickly made their way to Bodhanath and blended in with the Tibetan refugee community there.  After a few days of resting and fattening up in a guesthouse, Tsering and his friend Tenzin soon found haven with fellow Khampas from their homeland in Riwoche who offered them room and board.  Now in the safety of exile, Tsering donned his monastic robes and visited the holy sites of the Katmandhu valley and made kora around the great stupa of Bodhanath, a giant white Pagoda that stands six stories tall, painted with half-open eyes of the Buddha that look over the circumambulating pilgrims with a peaceful gaze of loving compassion and wisdom.  After a few weeks of rest and touring the holy sights of Nepal, Tsering started to plan the next leg of his journey into India.  His friend Tenzin offered to accompany and assist him.
Without too much hassle from authorities at the Nepalese/Indian border, a couple hundred Rupees in lieu of passports was all that was needed, the two Tibetans crossed into the Holy land of India.  Excitement mounted as they neared the foothills of the Indian Himalayas in the department of Himachal Pradesh where they would reach their destination of Dharamsala, the remote mountain town where His Holiness the Dalai Lama resides and a large Tibetan refugee community had set up the government in exile.  When the two arrived they were directed to the new arrivals center where they were each given a cot in a large dormitory and provided simple vegetarian meals daily.  They registered with the Tibetan government and were granted an audience with the Dalai Lama with other new arrivals.  The night before their audience with His Holiness neither Tsering nor Tenzin could sleep.  They both lay awake in their cots reciting mantras and purification prayers in preparation to see the fourteenth reincarnation of the spiritual and secular leader of their people and country and the being whom they believed to be the living incarnation of the Bodhisattva, or Saint, of Compassion, the one thousand-armed Chenrezig, or Avalokiteshvara.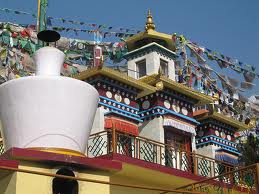 When daybreak rose the young Tibetans made circumambulation around His Holiness' residence along with the many elders of the community who did this as a daily practice.  Prayer wheels spun all around the circuit and the women stretched their stiff old bodies along the well-worn path in prostration.  The young men took a quick breakfast of Tibetan tea and balep, pan fried bread, and then went to the Office of the Dalai Lama to check in for their audience.  There was a large group of fresh arrivals like themselves, about fifty or so, who were anxiously awaiting this moment of a lifetime, holding white katags in their arms and pure thought in their hearts.  After passing through a very thorough security check, the group was ushered into a large receiving room where they were to wait for the arrival of His Holiness.  After fifteen minutes or so, several bodyguards entered and the group all rose in reverence, sensing the imminent arrival of their beloved "Kundun" or "Presence."  His Holiness arrived into the room with a huge smile and bellowed laughter much like Santa Claus.  The Tibetans were all weeping with joy in disbelief that this moment could actually be real.  This was a moment that all Tibetans back home could only dream about and now they were living it.  His Holiness greeted each one of them individually, smiling at them with the warmth of a parent meeting a child after a long absence.  The Tibetans each offered him a katag as they bowed deeply in respect.  He asked each one of them how their journey was, which part of Tibet they came from, and if they were homesick.  He was authentically concerned about every one of them and the warmth of his love touched them each deeply.  When they had all received his blessings, they were asked to sit before him.  His Holiness shared with them the history of their country, as many of them were never exposed to the truth inside occupied China, the current political status of Tibet and the importance they played in it all as they were now the representatives of Tibet in the free world.  He told them that they were now free to learn the truth about China and Tibet, free to study and learn their real history and that it was up to them to continue the practice of their religion and culture if Tibet was to survive.  He emphasized the importance of education and the role of the Tibetan language in Tibet's cultural identity and survival, encouraging them all, both male and female, to enroll in the refugee schools for both adults and children.
Tsering listened in awe and was deeply inspired by the words of this Precious Teacher.  He was so grateful to have made it safely through the dangerous journey and dedicated the merit of his passage to the eventual freedom of all beings.  When the audience was over, the group was ushered out of the room and they dispersed into the village of Mcleod Ganj feeling like they were floating on clouds as they slowly descended back to earth.  Tsering and Tenzin spent the rest of the day discussing every detail and instruction they had remembered from His Holiness' speech.  Tsering shared with his friend that he was planning to leave Dharamsala soon to head south.  He had heard that Penor Rinpoche, a renowned Nyingma lama, had a large monastery in southern India.  He thought he should go there to enter back into monastic life and perhaps find a teaching position.  Tenzin told him that this would be an auspicious plan but that he would not be joining him on his next leg of the journey.  He explained that he wanted to stay in Dharamsala and send word back to his mother that he was safe and waiting for her to join him in exile.  Tenzin wanted to settle here and make a new life for himself and his mother where she could, too, meet His Holiness and practice the Dharma in freedom.
The two friends parted ways as Tsering packed his small duffle bag of Dharma books and bought a train ticket for Mysore.  He was on his own now and would have to start learning how to communicate in Hindi.  He bought a small Tibetan/Hindi pocket dictionary to take with him on the train.  Tsering spent just a few months at Namdroling Monastery.  The bed he had been given was infested with bedbugs and the food was sparse as there were well over three thousand monks to feed.  Tsering learned from some other monks from his region of Kham that there was a small Nyingma monastery in Northern India, in the holy village of Sarnath near the ancient city of Benares, or Varanasi, that was looking for a teacher.  He heard that the monastery belonged to two Khenpo brothers who now lived in America but who were originally from his home in Riwoche county.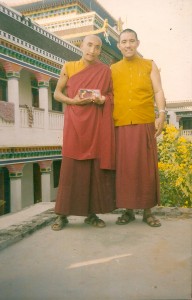 After hearing this Tsering decided it was auspicious and that it was his karma to travel back north and find this monastery.  He made the journey up north and found his way to Pema Samye Chokor Ling, the small Nyingma monastery he had been told about.  The monastery was just meters away from the sacred garden known as Deer Park, the holy sight where the Buddha turned the wheel of Dharma for the first time.  There is a large stupa there that consecrates the very spot where the first teachings were given and there are ruins of where ancient monasteries had been before the Muslim invaders had destroyed them.  Sarnath is a small village that is a stop on the Buddhist pilgrimage circuit for worshipers from all over the world.  Every branch and school of Buddhism has a temple or monastery there.  There is also the Central Institute of Tibetan Higher Studies which would be an attractive opportunity for Tsering to pursue his studies of Sanskrit.  Tsering met with the resident abbot of the monastery who welcomed him to stay and teach.  In this smaller community Tsering felt much more at home and soon fell into a comfortable schedule of teaching Tibetan and Dharma to the thirty young monks who lived there.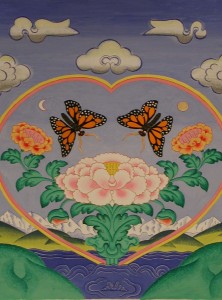 In this post I am beginning to publicly share the work I originally started a year and a half ago- a creative thesis in fulfillment of my master's degree.  I earned a self-designed masters in Liberal Studies with a concentration in Cross-Cultural Studies from Excelsior College.  I chose to pursue my degree from Excelsior because it afforded me the freedom of online study while I worked full-time as a French teacher, ran a business and raised a family.  I also found the Liberal Studies program attractive because it offered the option of a self-design program and a creative thesis in lieu of the traditional research-based style thesis.  I am the kind of person who likes to mix things up and expand upon my diverse interests.  I tend to get bored very easily, so the diversity of this program was right up my alley!  So, when it came time to produce a creative thesis, I chose to start writing a cross-cultural memoir that documents my life in comparison to that of my husband and partner, Tashi Palden, and the outcome of our lives' intersection.  It is my wish that friends old and new share my writing with me, reading the chapters as I post them, and commenting on them as well.  Your feedback will help me hone my new craft and keep me inspired!  I am using "Lotus Love" as the working title of the book.  The attached artwork was painted and titled "Lotus Love" by Tashi Palden in 2001.  I think that it would make a beautiful cover for the book should it ever be published.  Today's post includes the book's prologue and list of contents.  Enjoy!
PROLOGUE
"No English, no English," was all he was able to say as he quickly closed the orange doors to his chamber.  He had nervously accepted the Cadbury's Fruit and Nut bar that she had brought from America as a token of friendship for her new monastic neighbors.  After this brief exchange she did not see him emerge from his room for three days.  The other monks were very social and playful, sharing meals of fried egg and roti for breakfast, rice and daal for lunch, and overly spiced and salted tukpa, a Tibetan pulled noodle soup, for dinner, teaching her basic Tibetan phrases and names of objects used at mealtimes.  But her neighbor always took his meals in the privacy of his own room.  His roommate, Dawa, would deliver his food to him calling, "Guru, Guru, Sa ma sa!"
The monastery was in Sarnath, a small village on the outskirts of the ancient city of Varanasi, in northern India.  She had gone there with her Lamas for a six week pilgrimage of the Buddhist tour circuit.  They would stay at the Lamas' monastery in Sarnath, the site of the Buddha's first teaching, and then take a trip to Sharavasti, the site of the Buddha's retreat during the monsoon season.  She had been dreaming of this trip ever since she had first heard about the great country of India in fourth grade social studies.  She had learned about the Buddha, the Taj Mahal and the Buddhist beliefs in reincarnation and karma.  She had written about them in a black and white composition notebook that she still kept in a closet somewhere.  She remembered making a promise to herself that she would someday visit that faraway land of India and visit the majestic Taj Mahal.
She was different from the other young girls who played with their Barbie Dolls and dreamed of visiting Cinderella's castle in Disneyworld.  She had dreams of riding elephants and magic carpets.  When she was a young girl of seven or eight she remembers curling up in her mother's arms crying "I want to go home, I want to go home."  Her mother would rock her and say, "But you are home, sweetie."  Her words would have some comfort but the little girl had a vague idea that she had somehow been born in the wrong place, the wrong time.  She longed to return home, though she did not know where home was.  She would just push aside these dreams of remote places until she was old enough to realize them.
It was in high school, that the seeds of these dreams were planted.  She met her Lamas when she was a depressed girl of fifteen.  Her parents had divorced and both remarried.  The displacement of moving out of her childhood home and into her step-father's house unsettled her.  To add to the discomfort, her step-father happened to double as her headmaster at the affluent Country Day School she attended with tuition waiver through her mother's post as elementary school teacher.  The stress and expectations of this elite New England suburban town's society were too much for her.  She wanted so much to be the perfect daughter but something had to give.  She finally cracked that last year of high school and was immediately put on Prozac with the rest of the country's depressed.
In the month of December she took a short leave from school and stayed with her father and step-mother in Maine.  It was there that she learned about meditation, prayer, and the healing powers of the Dharma.  Her step-mother recognized her sincere interest in the Teachings and brought her to New York City to meet the Lamas.  That is the day her whole life shifted.  Upon this first meeting in an artist loft in the Bowery, she felt a homecoming like none before.  Tears streamed down her face as she felt her soul fall into the comfort of the Mother's lap.  There was no need to verify, no need to ask, no doubt, no hesitation, there was certainty about her karmic connection with her Teachers.  From that moment on her destiny was to unfold before her.
PART I: Worlds Apart
Chapter 1- Kham: Village Life & Shedra
Chapter 2- Greenwich: Affluence & Opportunity
Chapter 3- Lhasa: Sanskrit & Poetry
Chapter 4- Maine, Vermont & Paris: Dzogchen, College Bohemia, Snowboarding & Raves
Chapter 5- Nepal/India: Escape to Freedom
Chapter 6- North American Tour: The Circus, Injury & Return to the Dharma
PART II: Karmic Crossing
Chapter 7- Sarnath: Their Paths Cross
Chapter 8- Shravasti & Bodhgaya: Holy pilgrimage
Chapter 9- Nepal: Road trip to Katmandu
"Alphabetical Poem about Recent Feelings"
Chapter 10- Delhi: Everything Changes & a New Life Begins
Chapter 11- Majnukatilla: The Paper Chase Begins
Chapter 12- Dharamsala: Blessings from Dalai Lama & Karmampa
Chapter 13- Dehradun: Making the Papers
Chapter 14- Rajpur & Clementown: Saga Dawa Wedding
Chapter 15- Delhi & Agra: The End of the Paper Trail, Homage to Gandhi-Ji, and Honeymoon at The Taj Mahal
Chapter 16- Final Days Together and the Parting of Ways
Chapter 17- Separation Across Continents
Chapter 18- Reunion in Tso Pema
PART III: A Foot in Both Worlds
Chapter 19- Seattle & Brooklyn: Coming to America
Chapter 20- Albany: Growing Roots and a Family
Chapter 21- Chengdu: Final Stop on the Long Journey Home
Chapter 22- Lhasa & Riwoche: Return to Tibet